"Súsi" Crusheds Special Delight
8-02-04 / 30-11-06
Kelloe Big Smokey Black Face x Crusheds Ice Cream
Aunque ya no comparte nuestras vidas, jamás olvidaremos su mirada, su alegría permanente y por ser una maravillosa anfitriona, siempre adorable por su especial carácter.
Gracias Susiña, por dejarnos tu imagen en tu hija Susú que hace que tengamos parte de ti y tu carácter cada día con nosotras..... sabiendo que tú eras única.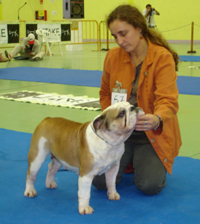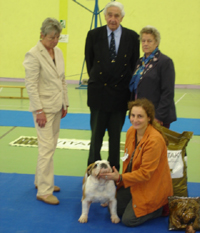 ¡¡ NUESTRA "SUSI" RESERVA HEMBRA BULLDOG OF THE YEAR 2006!!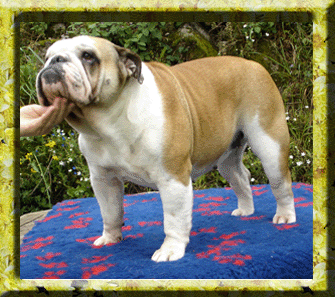 Susi con 14 meses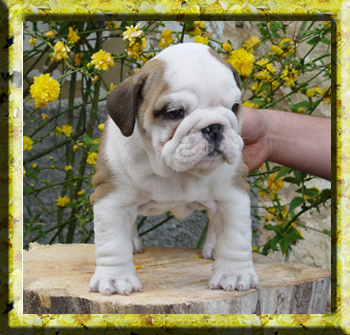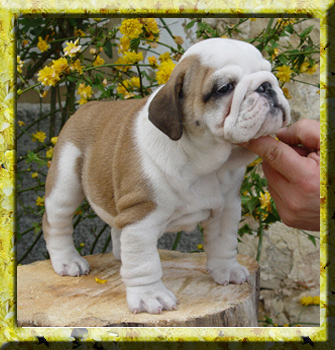 2 meses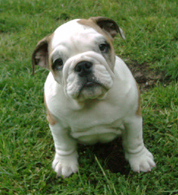 3 meses
Monográfica Nacional 04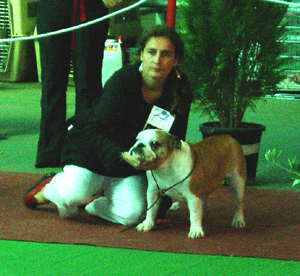 Susi con 7 meses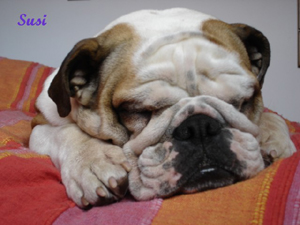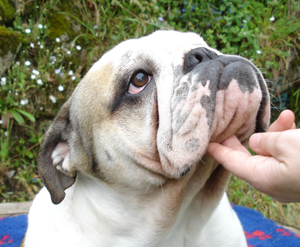 RESULTADOS EXPOSICIONES
MEJOR CACHORRO -1ª Especializada Raza Estoril 04 (J. L. Pinto Teixeira-P)
MEJOR CACHORRO HEMBRA - Expos. Intern. Estoril 04 (J. Moa Persson-SE)
MEJOR CACHORRO HEMBRA - Monográfica Gallega - 04 (J. Franco Ferrari-I)
MUY BUENO 5º Cl. CACHORRO H. - Monográfica Nacional - 04 (J. Mrs. Sue Garside-G.B.)
MEJOR CACHORRO - Exposición Pombal-Portugal 04 (J. L. Pinto Teixeira-P)
MEJOR CACHORRO -Exposición Internacional Coimbra - Portugal 04 (Javier Sanchez-E)
EXC. 1º JOVEN HEMBRA - Exposición Internacional Lisboa - 2005 (Ove Germundson - Sw)
EXC. 2ª CL. INTERMEDIA - Monográfica Reg. Galicia - Porto do Son (A Coruña) 2005 (P.Van Montfoort-HOL)
EXC. 1ª CL. INT.- RCAC - Exp. Nac. Porto do Son (A Coruña) 2005 (Alfonso Castells - E)
MEJOR DE RAZA-CAC - Exp. Nac. Pombal (Portugal) 2005 (Fdo. Madeira Rodrigues -P)
CAC - CACIB- Exp. Internac. Coimbra (Portugal) 2005 (Paul Stanton -SE)
B.O.S. Club Winner Hembra Monográfica Galicia 2006 (Robert Wain -G.B.)
R.B.I.S. VI Concurso Nacional Porto do Son (A Coruña) 2006 (Jesus Souto)
RCAC Especializada Estoril 06 - Christian Bruton (GB)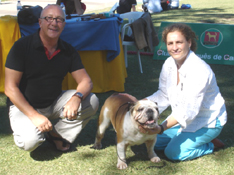 CAC- RCACIB Exposición Internacional Estoril 06 - David McHale (GB)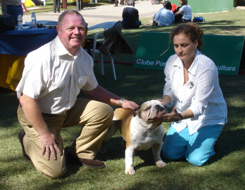 EXC 4ª Clase Abierta Exposición Internacional Vigo 2006
<< PEDIGREE 5 GENERACIONES >> VER ANCESTROS